Year:

2008, 2009,

2010, 2011

,

2012, 2013

Page

:

1

,

2

, 3, 4, 5, 6, 7, 8, 9, 10, 11, 12
Schoolbus a.k.a Trotro

The daycare rules! Is what the volunteers of September and October wrote down everywhere. It's definitely true. And now daycare Tamarinde wants to grow. Children from villages outside of Kokobeng are anxious to come down the bumpy road. They want to play with their little friends here in Kokobeng.
But yes, the road is bad and the children are too small to walk all the way over here.
And so the daycare wishes to have a trotro.

A trotro offers public transport in Ghana. Usually a minivan which has been imported from Europe.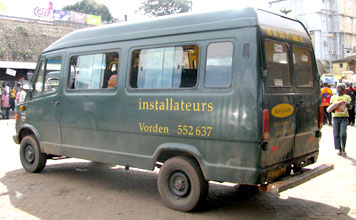 An example of a trotro
The Wall

Like all things in Ghana the wall is progressing at its own pace. This means more than the estimated time is needed to complete it. However they have built all the tricky parts, difficult connections and steep parts. The front merely needs to be plastered. At the moment they are working in the back of the compound. The soil is very hard to dig out since it is dry season so a group of diggers have been hired to assist Asare and Kwabena for a couple of days. This will help speed up the process.
---
This little bus can take more then 20 children to the daycare at once. It will not only be used for the daycare but also to buy
bulk groceries from the main market in Kumasi and for picking up volunteers as well.
To let the daycare grow a trotro is neccesary. And for that reason the September and October volunteers decided to put their strength together and collect money.We would be very pleased if the trotro can be bought in thenear future. If you wish to make a donation, please send it to the following account:

754733645 in the name of M. Kerklaan, Leiden

Thank you very much!
Four months of experience in Ghana
(maike)

A white paper with my name written wrong. That was my very first experience with Ghana. The man who held that paper at the airport was my driver to my first hotel in Accra and so in Ghana. There we went, to somewhere in a corner of the city. Over a bad road with big holes and gravel. Akwaaba, welcome in the country!

I worked at the daycare Tamarinde in Kokobeng for the
four last months. I am glad to share my experience with you.My first experience in the voluntary world was the compound of GWG in Kokobeng.

The moment I arrived at the compound in Kokobeng I felt at home. Great food, good facilities, nice environment and a wonderful building. And of course the daycare with the beautiful children. In the four months I stayed here, the daycare changed. More children came and brought new live in the daycare. A new teacher entered with new thoughts
about the daycare life. And I worked with different volunteers. 

I always knew I liked working with children. But working with Ghanaian children is something special. Just like every child, they like to play. The difference is the mentality. They are happy little children, relaxed and they know their own way.

Challenging them through playing games, was quite rewarding for me.  The same mentality from the children you will find within all Ghana. No stress, take it easy and feel
relaxed is what I learned from the Ghanaians. What a different way of working,
when you compare it to the western world. Ghanaians like to work hard, working with your hands. But still there's no stress. It is what I admire.I learned to be flexible. All your plans could change within the day, for example because of rain. I learned to deal with it. 

Ghana was especially a learning experience for me. I think an experience everyone from the western world should have once in their lives. Africa, something else!